Palm Beach County is experiencing a housing shortage
According to Trulia, the United States and Palm Beach County are experiencing a housing shortage.
Truila's Chief Economist Ralph McLaughlin stated "America is experiencing a housing shortage". This shortage is most acute in the first time home buyer market and these home buyers will on average have to spend more the 25 percent of their income to buy median priced entry level homes.
Palm Beach County's first time and trade up homes inventory has dropped over 20 percent since 2012 resulting in rising prices. With six months of inventory is a healthy market in balance, the under $500,000 home market inventory available for sale has dropped under three months of inventory, Many homes, if priced correctly, are selling in under 14 days with multiple buyers bidding. However, due to the tighter lending conditions, we are not in any form of housing bubble.
As indicated by the information below, better weather is the primary reason that people consider relocating. With more people moving to South Florida each month the tightened home market is not expected to be alleviated for quite a while.
Buyers need to be prepared when looking for a home.
1) Get your financing in order. Buyer's must be prequalified by a lender to make an offer. Most seller's will not consider any offers without such qualification. Additionally, buyer's will benefit from pre-qualifying by being able to focus on the homes most attainable to them.
2) Use a real estate agent. While Zillow and Trulia have a great amount of information available to buyers, such information is not always current. With homes selling quickly, agents can identify homes coming on the market and prevent time wasting by identifying homes that have already been put under contract.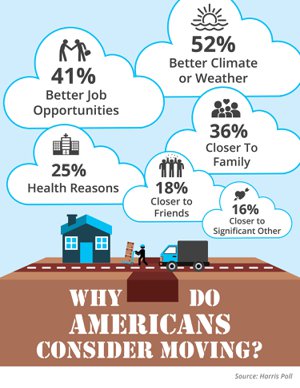 Thinking of buying or selling call (561)901-1358